Pencil Paper and the Ball
A downloadable game for Windows
Green Ball Holidays and ... Kostya.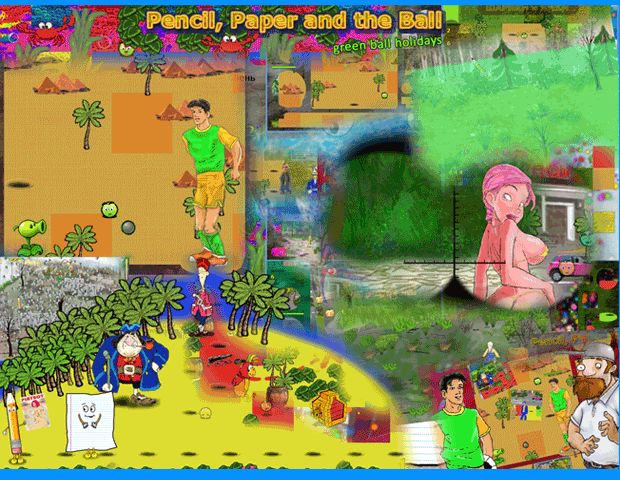 Kostya?

Kostya Korobkin, very nice, get acquainted!

And also Crazy Dave !!!

How ? You do not know Crazy Dave ??? !!!

Well, it could well be. And it's okay.

And yet Kostya Korobkin invited him to his place On a visit.
So, Crazy Dave visiting Kostya.

And everything would be good if it were not for the ill-fated history.

First, Dave ran out of seeds.

Secondly, the last Peashooter , which began
Shoot some strange seeds after from it
Accidentally flew some more strange pea.

That's the story!

Still, after that he began to shoot such seeds that Kostya
Had to dodge them, so as not to turn ... yes, yes,
In the ZOMBI!

And the blame for everything Green .

The messenger of other worlds. Or simply Green ball .

With good intentions, he came to our planet and how it turned out,
That he flew out of Dave's Peashooter, the story is silent.
And very sensible.

But the fact that two more came to the Earth after him -

In the image of Pencil and Paper is no longer in doubt.

As the beginning began (yes, that's exactly what I wanted to say!), Chaos of the universal scale.

And do you know why?

Because this "sweet couple" is able to materialize everything that Will see.

For this, Pencil simply paints it on Paper and ...

It arises in reality.

So they materialized the first Petka and Chapay they got.

And then - more ...

What will happen after I do not know.

But most likely nothing good.

That's why you need to urgently take this matter in your hands,
Armed with a mouse.

You will be helped or ... will interfere with universal scales of extraterrestrial intelligence -
PLANET OF THE BOL.

And Pencil and Paper accidentally in the hands of a magazine of erotic content
And they certainly materialize the sexy beauty of Bridge.

They carry them to a sultry island in the ocean, where Green happened to be the case.

In general, imagine. So, the Island, Bridget, the sea, and the hot sun. Sandy beach,
Palms and heat ...
Install instructions
start self extract archive. After extracting start the start.exe